We're pleased to be able to bring you the fixtures AND schedule for our summer #SocksOut competition, #KnockOutWorldCupSocksOut. The most important thing happening this June/July I think you will agree!
We're running the tournament alongside the release of our hugely popular #WorldCupSC18 Sock Range, paying tribute to classic football kits and great memories of the World Cup.
The competition is the ultimate fancy footwork cup battle. The players drawn against one another have to come up with the best combo to progress to the next stage. From the Round of 16 onwards the best combos will be put to a public vote on twitter (we are @SockCouncil there), so you can decide who has the best effort!
There are prizes up for grabs for our 32 participants, so there should be real competition.
FIRST PRIZE £50 voucher for sockcouncil.com
RUNNER UP £20 voucher for sockcouncil.com
Best effort of every round (judged by us, excludes the final) FREE pair of socks
The dates of the competition are:
First Round: 18 May 18
Round fo 16: 8 Jun 18
QF: 29 Jun 18
SF: 9 Jul 18
3rd Place: 15 Jul 18
Final: 15 Jul 18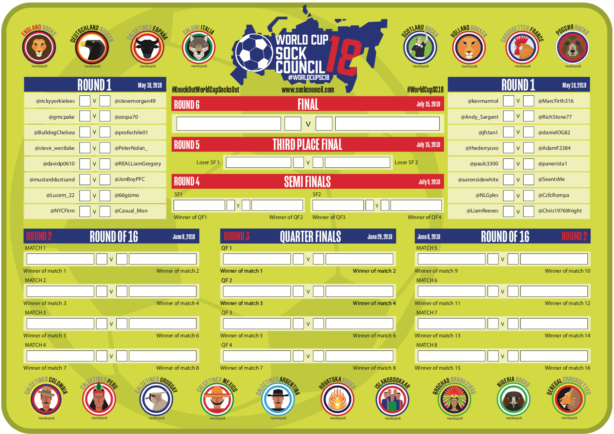 In 2016 our Euro competition was a HUGE hit, and we are hoping for some more stunning efforts like these!