It's difficult trying to think about things to write about socks. Socks are often relegated to the lower divisions of clothing chitty chat. Coats and the shoes get all the glamour press whereas socks barely get a mention in the local free rag. Sock Council are changing that and putting socks back where they belong; on your feet!
So what interesting things do I have to say about socks? I like socks, that's for sure. However, I can't really think of any sock related events that are worthy of recounting in cyberspace. I wonder if astronauts have specially designed cosmic socks to keep their varicose veins from exploding? Who invented the sock? Probably some Celtic tribe four thousand years ago maybe. Can vegans eat socks? Did you the word 'sock' is an anagram of 'coks'? No my own sock story is pretty mundane. Where I live, in Runcorn on the Mersey estuary, there used to be a massive ICI chlorine plant. There's still a massive chlorine plant but it's now owned by eco-rapist, Jim Radcliffe and his INEOS chemicals conglomerate.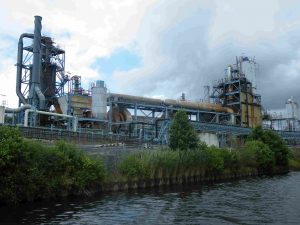 Runcorn was and still is to a degree an 'ICI Town' and prior to becoming a new town and welcoming 35,000 migrant scousers from across the Mersey with open arms in the 70s, most of the male population were employed either at ICI itself or industries linked to it; the salt works, the docks, the tugs and so on. My dad worked at Weston Point docks and Weston Salt Union had their yard at the same location, salt being used in vast amounts for the production of chlorine and transported via the Weaver canal from the salt mines in Northwich and Winsford.
This interlinked industrial connectivity also manifested itself in items of clothing and one such icon of my youth was the 'ICI Sock.' These socks were knitted from a wool mix with the same pinkish hue and taste of three week old corned beef hash. They were thick and warm and perfect for winter days spent playing three and in em for hours on end in the garages. ICI socks were handed down from father to son like medals from the Boer War, they were cherished items, adored and even worshipped.
The great God, Chlorine had furnished the people of the town with prosperity and lung disease and for this the god demanded sacrifice. We offered our first born sons and they gave us warm socks and cancer. I don't even know how me dad had pairs of em – maybe he traded them for some knock off whiskey or a jar of precious unguents from the Orient, any way I'd swipe them from the airing cupboard whenever the outside (and sometimes the inside) temperature required. They may not have looked funky and fashionable but fuck they were warm.
Still, as I look around TK Maxx in search of affordable sock wear that isn't either minor brand diffusion line bull crap or self-consciously Jon Snow 'eccentric' I'm glad Sock Council have filled the massive foot shaped void in my life. Now, hopefully they'll drop all this football nonsense and get around to doing an 'Industrial' range, in pink ofcourse.
By Phil Thornton (author of Casuals)
The Swine Magazine archive is available here, something Phil wrote for 5 years! We highly recommend you check it out!